A mother established a revocable living trust to leave her estate to her two adult children. The mother felt naming one of the children as trustee would cause a rift in their relationship, so she sought a private, professional fiduciary instead. Many years later, the mother passed away. The fiduciary accepted the trusteeship and began the trust administration process. Eventually, the children noticed significant issues with the trust administration and confronted the fiduciary. However, the fiduciary was adamant about their decision-making as trustee and refused to cooperate with the children. The children allowed the trust administration to continue as they did not want to exacerbate the situation. To this day, the children feel betrayed and believe their mother's last wishes were not fulfilled.
Unfortunately, we here at Mortensen & Reinheimer, PC, see the above scenario all too often. To avoid such issues, a safety measure that the mother could have included in her trust is called a "Trust Protector." Generally, a Trustor Protector is given significant power over your trust and provides oversight of certain decisions, as well as allowing for a degree of flexibility to the trust itself.
Are you looking for legal guidance? Call Mortensen & Reinheimer, PC, today at (714) 384-6053 or contact us online today!
What Does a Protector in a Trust Do?
An essential function of a Trust Protector appointment is to monitor the trustee and oversee performance. Had the mother named a Trust Protector in the above case, the children's allegations could have been independently and objectively investigated to determine whether the trust administration was handled correctly. If not, the Trust Protector could remove the fiduciary and appoint a successor trustee.
Key Responsibilities of a Trust Protector:
Resolve disputes between trustees (if there are co-trustees) or between beneficiaries and trustee(s)
Consent to, direct or veto income and principal distributions
Change the location of the trust
Alter interests of beneficiaries
Terminate a trust and have income and principal be distributed outright and free of trust to one or more beneficiaries
Convert a limited power of appointment to a general power of appointment
Create a general power of appointment in favor of a beneficiary
Make changes to the trust, or accommodate changing circumstances or laws
These powers can be eliminated or altered so that the Trust Protector has limitations as desired by the trustor.
Who Can be Appointed as Trust Protector?
The Trust Protector can be anyone; however, it is recommended that a neutral party be selected to evaluate concerns and issues objectively.
How to Avoid any Potential Problems 
As good as it may seem to have a Trust Protector, problems can occur if the role is not clearly defined. To avoid unexpected power struggles, the Settlor/Trustor should be clear in their trust documents what specific powers will be given to the Trust Protector and any limitations (as California has not codified the role). It is also recommended that the Trust Protector clause include a path to removing and replacing the Trust Protector and set forth guidelines as to their qualifications.
Contact Mortensen & Reinheimer, PC, today for a consultation!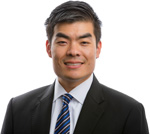 About the author:
Weily Yang is an attorney at Mortensen & Reinheimer, PC, Irvine's estate planning and probate firm. Weily is a zealous advocate for individuals with special needs. His primary focus is on special needs trusts and probate conservatorships and estate planning, trust administration, and probate. He can be reached at weily@ocestateplanning.net.